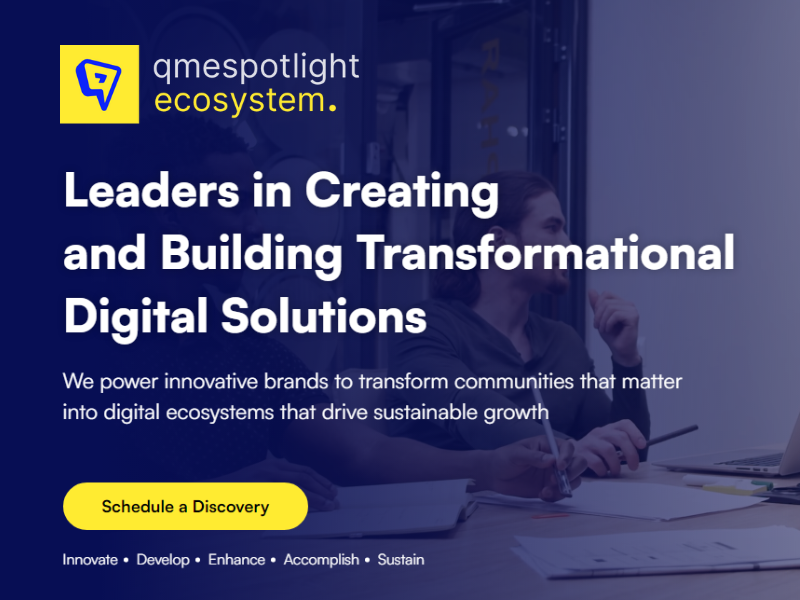 WILMINGTON, DELAWARE, June 15, 2022 — Qme Spotlight Ecosystem is breaking ground in the tech industry. Qme is unveiling its proprietary suite of digital software solutions designed to organize and activate local information and resources and make them more accessible to local businesses & communities to drive sustainable growth.
Qme's digital solutions empower users to cultivate digital communities that include educational resources, job opportunities, business growth solutions, and more in their locally managed online environments.
"Gaylord Neal, chief revenue officer and a managing partner for Qme, said that Qme's solution could provide long-term user value for local communities to work collectively to connect the things that matter to support their local businesses and community growth." "This is especially needed after many communities across America are reeling and trying to bounce back from the negative effects of the COVID-19 pandemic," he said. These communities need a catalyst solution to help them accelerate their growth, the Qme's CPaaS solutions are precisely what they need."
Qme CPaaS Solution hubs are available for the following sectors, with more currently being developed:
Small business Digital Incubator and Accelerator

Business Funding Preparation and Capital Acquisition

Media and News

Nonprofits and Community Organizations

Colleges and Universities

Farming and Agriculture

Import/Export Trade and Commerce
Bentley Charlemagne, founder and CEO of Qme, describes the company's offering as a digital solution bridge that gives local communities greater control, connectivity, and real-time access to their growth data analytics to do more good for more people.
Qme suite of solutions solves numerous problems facing communities trying to accelerate their growth and development. In addition, it will enable communities to put in motion the power of the collective to help them accomplish more as they drive transformative change.
For more information, contact:
Dr. Gaylord Neal | Chief Revenue Officer | [email protected]
Qme Spotlight Ecosystem Unveils Suites of Digital Solutions Portal to help Drive Business and Community Growth
WILMINGTON, DELAWARE, June 15, 2022 — Qme Spotlight Ecosystem is breaking ground in the tech industry.
Digital Ecosystem Developer
Software Development